DOJO SURVEY:UPDATE
ADULT CLASS AT NEW BARNET DOJO TO COMMENCE ON A TRIAL BASIS FROM 26TH SEPTEMBER 2019
START TIME IS 8 PM TO 9.30 / 9.45 PM
£6 PER LESSON.
ALL LEVELS WELCOME.
PLEASE INVITE FRIENDS & FAMILY
https://giftmartialartsuk.wufoo.com/forms/zf2n30w0qe1w9n/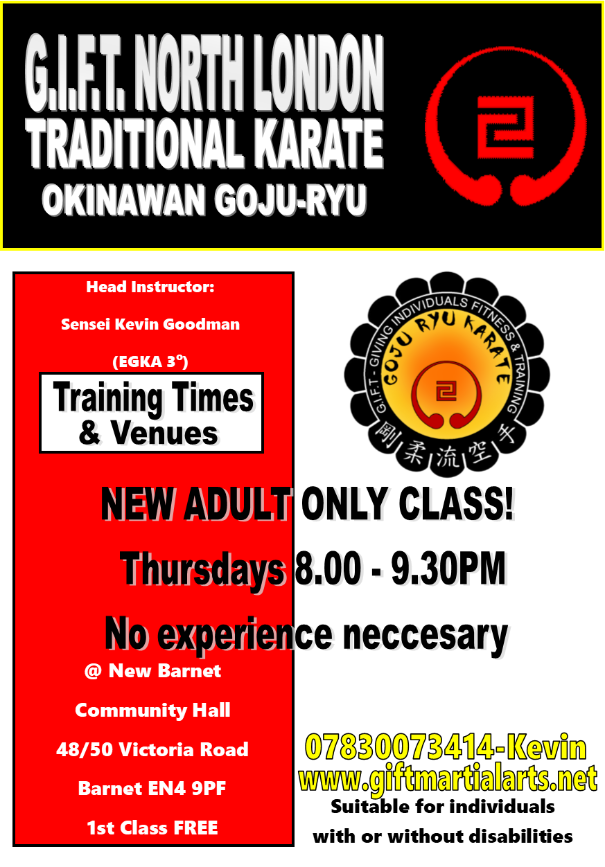 TRAINING FEES:
ALL CLASSES AT EACH G.I.F.T. LOCATION WILL BE £6 PER STUDENT PER LESSON. THIS INCLUDES ALL LESSONS.
SIBLINGS TRAINING TOGETHER OR WITH PARENTS WILL PAY £5 EACH.
JUNIOR/INFANT KARATE GI'S: £22
CADET AND ADULT LIGHTWEIGHT GI'S
(SIZES 160CM +) £27
SEW-ONCLUB BADGES: £5
PLEASE CONTACT FOR MEDIUM AND
HEAVYWEIGHT GI

PRICES
MANY THANKS FOR YOUR CONTINUED SUPPORT!

Traditional Okinawan Goju Ryu Karate-do
G.I.F.T. Karate Club teaches traditional Okinawan Goju Ryu karate
in North London & Hertfordshire.
We hold regular classes for children and adults every weekday from 5.30pm to 8pm in most locations and every Saturday from 10.30am to 2pm.
Please see click the LOCATIONS button below for further information.
G.I.F.T. stands for:
G

iving

I

ndividuals

F

itness &

T

raining
(in

M

artial

A

rts)
G.I.F.T. MARTIAL ARTS UK IS AFFILIATED TO THE E.G.K.A.
(ENGLISH GOJU RYU KARATE-DO ASSOCIATION )