Greetings!!!
Well, I've finally done it after almost five years since joining the EGKA and training in Okinawan Goju Ryu karatedo, and successfully passed my test for E.G.K.A. Shodan (1st Dan black belt). Some of you may be confused and ask " aren't you already a black belt?" The answer is , yes I am but under a different organisation. When you come over from one organisation to another as a black belt or brown belt even, you must be reassessed under the new clubs' syllabus and regimen in order that you have made the necessary changes in technique, etiquette, and so on.
Due to teaching 6 days a week and family commitments I had previously been unable to attend an assessment weekend but I made a commitment to myself, my training and to my students, that I would not let another year pass without my assessment under the E.G.K.A. syllabus.
So here we are. What does this mean from now on?
Well for myself it means that I am at the beginning of a long, testing but fruitful journey in Okinawan Goju Ryu karatedo. For our club it means that we are, officially, an E.G.K.A. registered club and this will open up a plethora of avenues for our students' training.
After one days' rest (after 12 hours solid training this weeken!), I am back to work and teaching todays' after school club and evening sessions in Colindale.
So thank you for reading and I look forward to seeing you at the dojo!
Domo arigatou gozaimashita!!!
Goodman ,Kevin Sensei
TOURNAMENT RESULTS 26TH FEB 2010:
The following people came 1st 2nd and 3rd in :KATA
SENIORS
1ST: MATTHEW
2ND: KORAY
3RD: BILLY
JUNIORS
1ST: KIERA
2ND: KAROL
3RD: BEN
WELL DONE!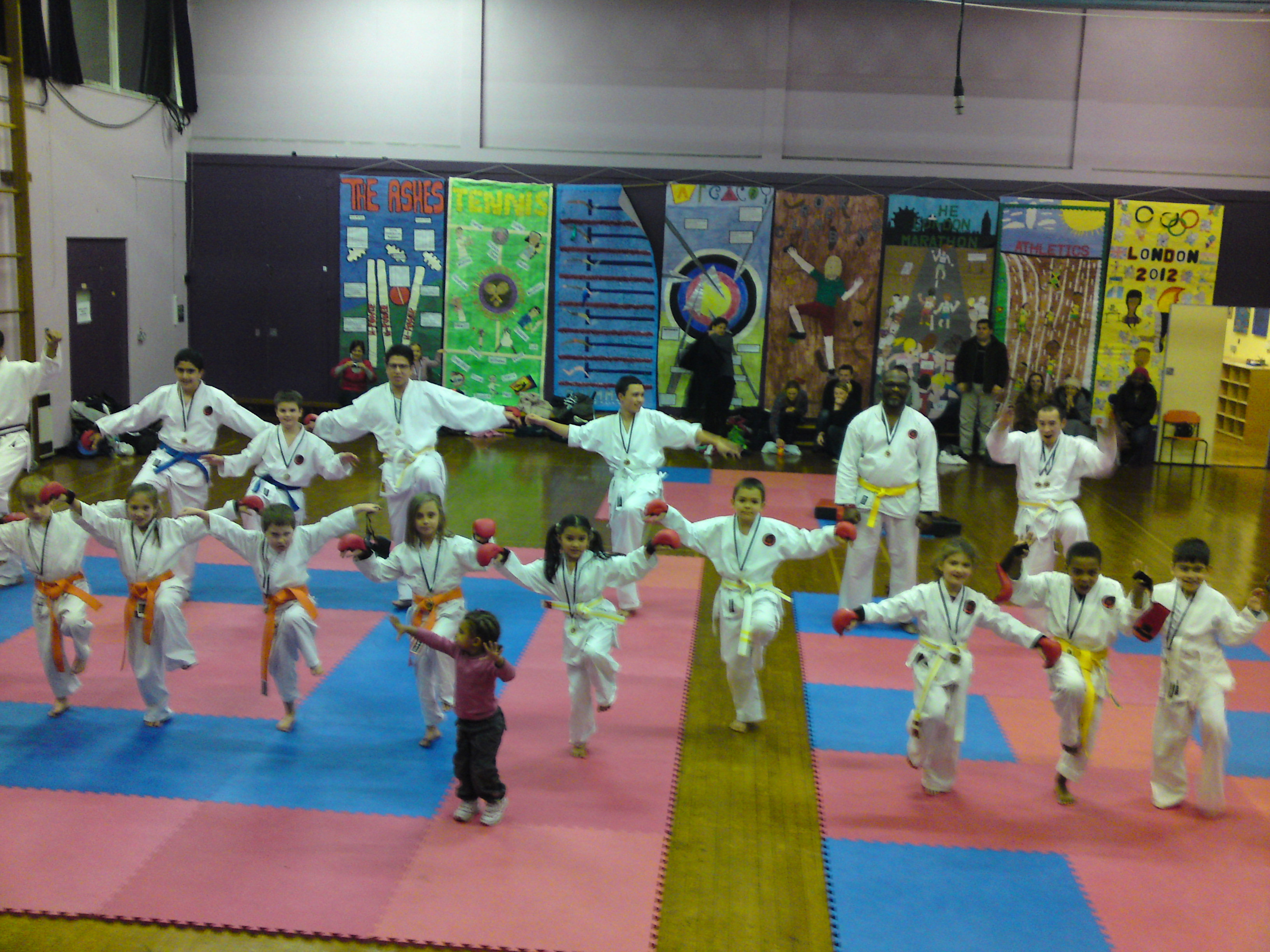 The following people came 1st 2nd and 3rd in :KUMITE
SENIORS
1ST: HAROLD
2ND: MATTHEW
3RD: KORAY
CONGRATULATIONS!
The following people came 1st 2nd and 3rd in :KUMITE
JUNIORS
1ST: KAROL
2ND: AALIYAH
3RD: ARCHIE A.
WELL DONE!
COLINDALE SCHOOL A.S.C. COLINDALE
At Colindale school, kumite was set as the event for all to take part in. There were 2 categories; white belt beginners and kyu grades. The kyu grades consisted of 9th kyu Yellow belts to 6th kyu Blue belt.
Here are the results for the beginners:
IN 3RD PLACE: DANIEL & SEBASTIAN, 9TH KYU(THEY SHOULD HAVE COMPETED FOR 3RD PLACE BUT TIME RAN OUT!)
IN 2ND PLACE: NICOLE , 9TH KYU
AND IN 1ST PLACE AUTUMN 2010: YASIN , 6TH KYU!!
WHITE BELTS:
IN 3RD PLACE: JAMAL & ALI
IN 2ND PLACE: FAISAL
AND IN 1ST PLACE AUTUMN 2010: BLEND!!
Both Ali and Blend have only completed one term of karate club so a terrific result!!
THIS TERMS' TOP PERFORMING STUDENT AWARD WAS WON BY DIA!
DIA EARNED MORE STARS THAN ANY OTHER STUDENTS FOR CONSISTENT EFFORT IN CLASS,GREAT EXAMPLE OF BEHAVIOUR, CONCENTRATION AND DOJO ETIQUETTE THROUGHOUT THIS TERM. SHE WON A KARATE BOOK FOR HER EFFORTS. WELL DONE DIA IN YOUR FIRST TERM OF KARATE CLUB!!
CONGRATULATIONS TO ALL WHO TOOK PART IN BOTH KARATE CLUBS AND I LOOK FORWARD TO SEEING YOU IN THE NEW YEAR!! IT WOULD BE GREAT TO SEE YOU OVER THE NEXT 3 WEEKS AT THE EVENING CLASSES ON FRIDAYS, OR THE SATURDAY MORNING SESSIONS IN COLINDALE, GETTING IN SOME EXTRA TRAINING BEFORE CHRISTMAS!
YOKU DEKIMASHITA!!
I would like to say a huge "thank you" to all students who have taken part in our Karate After School Club this year.
At Colindale primary school and St Marys' Jr. school, we ran mini tournaments which were a blast!
ST MARY'S SCHOOL A.S.C. HORNSEY
At St Mary's the kyu grade students were given a written test to complete before taking part in the kumite (sparring) contest and while they were writing, the white belt beginners were competing to see who could perform the best "Sandan Gi".
Here's the results of the Sandan Gi contest:
IN 3RD PLACE: LAURIE
IN 2ND PLACE: ERIC
AND IN 1ST PLACE FOR AUTUMN 2010: OLIVER!
I was very impressed with all of the karate from the beginners, especially their execution of Sandan gi routine. Well done to all!
The first set of results for the kyu grades (Yellow belt to Orange belt in this ASC) is for the written test. They could each achieve a total score of 22 if all questions are answered correctly.
There was only one student who achieved the maximum score on this test! 4 achieved 18, 2 scored 15, 2 scored 14 and the others below 10. The test was based on knowing how to count in Japanese and basic commands, names of techniques and knowledge of karate.
The winner was.......GEORGINA!!! Fantastic result Georgina, I'll have to devise an even harder test for you next term!
Onto the kumite for the kyu grades:
IN 3RD PLACE: NIALL & THIERRY
IN 2ND PLACE: ANAIYA
AND IN 1ST PLACE AUTUMN TERM 2010: SADE!!
WELL DONE TO ALL! THE FINAL WAS QUITE CLOSE AS THEY ARE BOTH VERY GOOD FRIENDS! BUT BOTH SHOWED NO MERCY IN COMPETITION AND PLAYED TO WIN! EXCELLENT EFFORT!
There were 3 contenders for this term's AWARD for TOP PERFORMING STUDENT!
They were RANDALL, OSHAUN & FLYNN.
I HAD TO ASK THEM A NUMBER OF RANDOM KARATE RELATED QUESTIONS TO DETERMINE THE WINNER!
RANDALL WON 1ST PLACE, FLYNN CAME 2ND AND OSHAUN CAME IN 3RD. THERE WERE ONLY 2 PRIZES BUT OSHAUN DID SO WELL, SHE WAS AWARDED WITH ONE OF OUR ORIGINAL DOJO TEES TM, WHILE FLYNN AND RANDALL WENT HOME WITH NEW KARATE BOOKS
TOURNAMENT NEWS:
THE 1ST DOJO TOURNAMENT FOR 2010 DENTOH & G.I.F.T.M.A.U.K. TOOK PLACE AS PLANNED ON FRIDAY 26TH OF FEBRUARY AT OUR HORNSEY DOJO.
IT WAS ATTENDED BY 19 STUDENTS FROM WHITE BELTH (11TH KYU) TO PURPLE/WHITE BELT (4TH KYU).
IT WAS A FUN EVENT AND STUDENTS COMPETED AGINST EACH OTHER IN KATA AND KUMITE(SPARRING) CATEGORIES. UNFORTUNATELY WE DID NOT HAVE ENOUGH TIME TO INCLUDE BOARD BREAKING AND PADWORK THIS TIME.
I WOULD LIKE TO SAY A HUGE THANK-YOU TO ALL WHO TOOK PART AND TO PARENTS AND GUARDIANS FOR GETTING INVOLVED AND ALSO TO JENNIFER, DAVE AND LANCE FOR HELPING OUT WITH REFEREEING, SCORING AND BEING A HUMAN TARGET FOR RANDOM ATTACKS FROM 3 DIRECTIONS (SORRY LANCE!!)
HOPEFULLY WE WILL RUN ANOTHER DOJO TOURNAMENT IN SUMMER AND A 3RD IN DECEMBER. FOR THOSE IN NORTH LONDON, WE ALSO RUN DOJO EVENTS IN OUR OTHER CLASSES IN SOUTH LONDON AND YOU ARE WELCOME TO ATEND THOSE ALSO AND THE E.G.K.A. ALSO RUN EVENTS HOWEVER YOU NEED TO HAVE AN E.G.K.A. LICENCE TO ATTEND THOSE(E.G.K.A.) PLEASE ASK FOR FURTHER DETAILS ABOUT LICENCING OR GO TO WWW.EGKA.ORG.UK
THANKS AGAIN!
SENSEI KEVIN
Greetings, konnichiwa, konbanwa, ohaiou gozaimasu!
I hope all of you have had wonderful time during the summer break! Now it's time to get back into some good karate training! I'm sure you've been practising…….maybe not!
Remember, practice at home doesn't have to be an hour, half an hour or even 15 minutes! Any length of time spent practising a technique, routine or doing stretching or toning excersises will do you good as long as you do it regularly. Most of you train with us once a week so its good to fill the gaps with some form of routine at home. Stand in front of the mirror ( a big one if possible) and practice ONE block. Ie., Chudan Uke or 'inside stomach level block', for instance. Do it slowly, making sure that each move is precise. Continue this for a length of time like 5-10 minutes or for a number of times instead. If you do this once a day, you will soon start to feel yourself getting better and stronger and more on-target.
As an instructor I must train as often as I can, every day for a few minutes or a couple of hours.
Training dvd's are available for you to buy with basic techniques also kata and self defence. I watch these often as it's always good to refresh your memory from time to time. If you would like to purchase these please let me know.
We are hoping to run dojo tournaments this month and the next grading is on the 11th October 2009. You will be individually informed if you are to attend this.
Aftre school clubs restart this week with St Mary's in Hornsey on Friday and Colindale primary school next Tuesday. See the GRADINGS page to see who has progressed beyond white belt.
Thanks for reading!
Mata ne! (see you soon!)
Sensei Kevin